I've been lucky enough to be able to take part in
Blissemas
this year. Make sure you swing by the site and read
Victoria's
blog for the day as well. And, don't forget to comment!!
So i'm going to talk about some of my memories in preparing for the holiday and leave you with a first kiss scene from one of my holiday stories, Add A Little Mistletoe.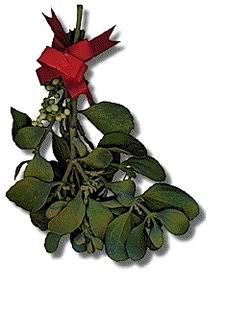 I grew up in the great state of Georgia. Out in the country and for us, Christmas was a huge deal. Still is, although the family is much more spread out. Makes the gatherings a bit more difficult and at the same time, more treasured when we get together.Anyway, one of my jobs was to gather the mistletoe sprigs to be hung up and about. We had this huge tree out behind our house and that's where I would go to get the bunches which were requested. I had an older brother…still do…and he used to love pointing out the bits on the thinest branches. And then send his baby sister (that would be me) up there to get them.
So while he stood down at the bottom, I scampered amongst the branches clipping off the sprigs and dropping them to him. After we got enough–we usually got enough for about five families and would take them to all–I would climb back down that tall tree and we'd go to start putting all of them up. When we were through, the house would look like something I could only dream of. The mistletoe hanging, the tree up with the scent of pine in the air. We never had a fake tree, going out to get one is a total other story. And of course the smell of baking cookies, gingerbread, and all of the other delicious scents of the season.
Mistletoe to me is a very important part of the holiday. Yes, it is a posionous plant but hey, we're not talking about eating it now are we? No, we're talking about what we do under it. *grin*
And that, brings us to the kiss. I remember dashing under it so not to get caught, or walking much slower when the one I wanted the kiss from was near, in hopes of having that Christmas wish fulfilled. There was always the anticipation and build up. And then the kiss (Which hopefully was a good kiss). Mine were!
Do you have any wonderful memories of being caught under the mistletoe?
And as promised here is an excerpt from my story: Add A Little Mistletoe. Enjoy Aspen and Colt's first kiss beneath the mistletoe!
"Well, the thing is," he started again.
Aspen waited patiently, not in any rush whatsoever to make him hurry. She felt so safe when he was around her. His eyes moved to her lips and back up to her catch her gaze. He seemed uncertain. Finally, he just latched onto her arm and pointed up with his free hand. Following the movement of his finger, Aspen gasped when she saw the sprig of mistletoe above them. Nervous now, her eyes moved toward his face.
His free hand cupped the side of her still-plump face before plucking her glasses off and pressing them into her hand. Then both of his warm, callused hands held her face as he lowered his mouth to hers.
Colt's mouth covered hers gently as his tongue slid between her lips to wander around in the warmth of her mouth. Their tongues touched and the explosive shockwave of feelings that spread through them ripped both sets of eyes wide open.
Determination flared in Colt's metallic gaze as he pressed closer to her and swept through all recesses of her mouth. He pulled back and traced her kiss-swollen lips with the pad on one thumb. "Merry Christmas, Aspen," he murmured in a voice deeper than she could ever recall him having.
Aspen blinked slowly and when her eyes opened again, it was just her, the mistletoe, and the lingering scent of Colt.
I hope every one has a wonderful Christmas season! Post your comments to be entered in the
BLISSEMAS
drawing for the grand prize: a
kindle
. This drawing will take place at the end of Blissemas. Best of luck to all who enter.
In addition to the grand prize, I'm offering for one person out of those who comment here a chance to win a signed copy of one of my print books. Choices are:
What White Boyz Desire
What the Earl Desires
Born to Fly collection
The Detective's Lover
Add A Little Mistletoe
Sin is Not a Four-Letter Word
Any 1 of the Megalodon Team stories
Reignited
May this season bring you many wonderful stories along with good times with family and friends!
Happy reading,
~Aliyah